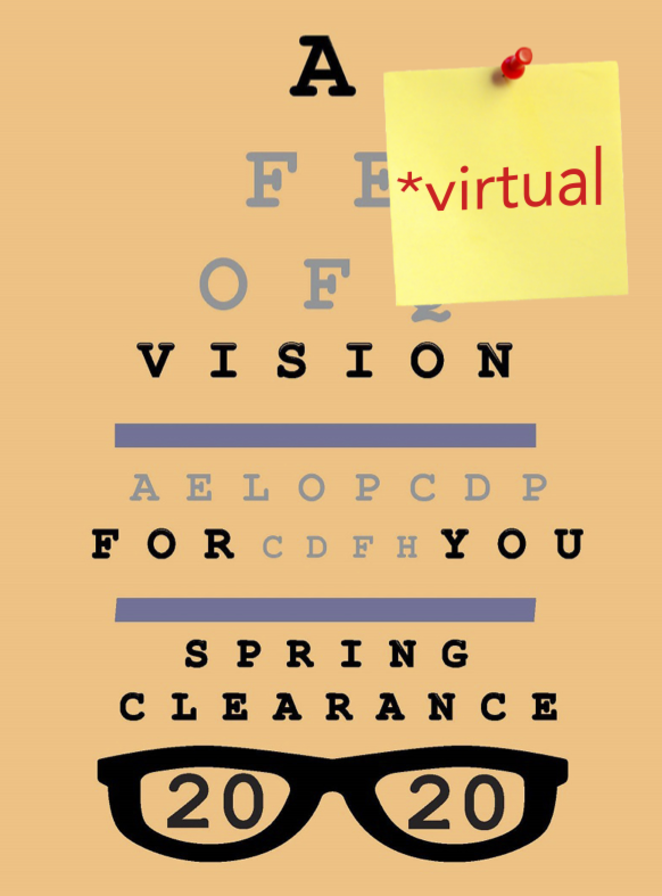 Thank You For a Successful Event!
Online Registration is NOW CLOSED!
Saturday April 25, 2020
12pm noon to 12am midnight (EST)
We at Spring Clearance hope you are staying safe during this time of uncertainty. As we all start to move our lives to an even more virtual reality, we wanted to let you know that Spring Clearance is too!
Spring Clearance 20/20: A Vision For You is going virtual! On Saturday April 25th we will have a full day of recovery related programming for you to experience, on everyone's favorite platform, Zoom! Throughout the day there will be various workshops focused on the 12 steps and wellness.  We will be closing the evening with 2 incredible invited guest speakers and an entertainment extravaganza!
Online registrations will be accepted until 8am EST on 4/25/20!
 We look forward to seeing you all very soon!
---
Due to the current COVID-19 outbreak the Spring Clearance 2020's in person retreat has been cancelled

 To our Spring Clearance friends and family:

First and foremost, we hope that all of you are safe and healthy during these challenging times. That is paramount above all else. Despite the daily shockwaves of change that are impacting all our lives and security, your well-being is of utmost importance. We at Spring Clearance have been in absolute awe of the generosity, compassion, and creativity that our fellowships have shown over the past week. You each have demonstrated the truest tenets of the 12-step program: coming together in times of struggle, and carrying the message of sobriety to each other through a shared sense of responsibility.

I know that many of you are anxious about the status of Spring Clearance 2020. As is widely known by now, the Centers for Disease Control and Prevention (CDC) published an advisory against the congregation of any moderate-sized groups. Our number one priority is, and has always been, the health, safety, and serenity of our attendees. We have been rigorously exploring our options, and been in regular communication with our host venue, Interlaken Inn. Interlaken has been an exceptional partner throughout this process, and has been equally eager to come to a solution.

Regrettably, the continually changing circumstances surrounding COVID-19 have forced us into an unavoidable position. To that end, we have made the decision to cancel Spring Clearance 2020. This decision was made after exploring every possibility and assessing every circumstance. Unfortunately, given the fact that we have no clear sense of how long this pandemic may continue to grip our society, it would be ill-advised to attempt a postponement. While this is utterly disappointing, we believe this is the only option left to us right now.

Anyone who has registered for Spring Clearance will be automatically refunded. If you are in a position to convert your registration into a fully tax-deductible contribution, your support would be most welcome. Please contact me at chair@springclearance.org if that is of interest. 

This clearly was not the outcome that we, you, or any member of the Spring Clearance family wanted. Personally, this is the most heart-breaking decision I've had to make since getting sober. My fellow committee members and I are available to assist you with your concerns and hope to calm your fears as much as possible.

Last but certainly not least, we as fellows know all too well the need to come together for the common good. Let us focus now on what is most important: that we take care of each other and support our neighbors, family, and friends, while not forgetting that our own physical and mental health is key. Spring Clearance fosters an amazing sense of unity each year. This is an incredible opportunity to demonstrate that unity at a moment when we need it most.

It is my honor to be of service. Thank you for your support, patience, and understanding. 

Yours in Service, 
Sean M
Spring Clearance Chair 2020